Current Cannabis Laws in South Africa
This article aims to extinguish false claims surrounding medical cannabis in South Africa. We walk you through the history of "dagga" laws in SA, current legislation, the availability of marijuana medicines and more. Brace yourself for some fascinating information that will lead you to look at the cannabis plant in a different light.
Dec 18, 2020
Cannabis 101, News
Recent court rulings and policy proposals have lead to a lot of hype around the legalization of marijuana in South Africa. As a result, unsuspecting buyers of cannabis products may fall victim to misleading marketing strategies targeted at both recreational and medical consumers. At MCDSA, we feel that it is important to extinguish the flames that burn bright with false legal claims. This article aims to keep you informed of the latest cannabis law changes, as they happen, as it serves to clear up the murky waters that surround current "dagga" legislation in South Africa.


IN THIS ARTICLE:

Important Terminology
Before we dive in, it is important to understand what certain terms mean and how they differ from each other.
Legalization – the ongoing process of removing prohibition associated with cannabis.
Criminalization – turning an activity (or person's activities) into an offense punishable by law.
Decriminalization – the lessening of criminal punishment according to certain laws.
Medical / Medicinal – using marijuana for the purpose of supporting the treatment of a particular medical condition or symptom.
Recreational – consuming dagga in a leisurely manner that does not apply to the treatment of a specific medical ailment.
Cannabis / Marijuana / Dagga – refers to any part of the Cannabis sativa plant (more than 0.2% THC) or products derived from its materials.


Timeline: Dagga Laws in SA
Early Evidence
The plant is believed to have originally been introduced to native East African people by Arab or Indian traders at least 1000 years ago. Archaelogical evidence for smoking cannabis dates back to two smoking-pipe bowls from 1320. From there, it was likely transported south by Bantu peoples. The first written record of the plant on South African soil exists in the form of Jan van Riebeeck ordering officers to purchase "daccha" in Natal to trade with the Khoi-Khoi. It is worth noting that early references may have confused the Cannabis sativa plant with Leonotis leonurus (wild dagga consumed by the natives).
1680: First Prohibition by European Settlers
The plant was already being used by traditional African groups prior to European colonization. In an effort to monopolise sales, the Dutch East India Company prohibited cultivation by settlers in 1680. Due to the plant growing wild and being readily available through trade with indigenous people, this initial prohibition proved to be unfeasible and was later lifted in 1700.
The decision to reverse prohibition was aided by the fact that South Africa provides a very suitable climate for growing cannabis, especially in the "Dagga belt" region of the Eastern Cape and Kwazulu Natal, where it has adapted to grow naturally. Examples of South African landrace strains include "Durban Poison" and "Rooibaard".
1870: Unique Provincial Laws
Cannabis remained unregulated for almost two centuries, before provincial laws were set against dagga to varying extents and targeting various population groups. In 1870, Natal banned Indian migrant workers ("coolies") from possessing, smoking, using, bartering or gifting the plant via the Coolie Law Consolidation. Growth restrictions were imposed in the Cape and Transvaal, before the Cape Colony prohibited the plant in 1891 and the Free State outlawed dealing in it in 1903.
At this time, cannabis was recognised as a drug linked to crime, laziness and "dagga insanity", although Natal began regulating its sale in 1908 and it was sold openly by shopkeepers in the Transvaal. The unification of colonies resulted in the formation of the Union of South Africa in 1909. By 1921, the scales once again tipped towards prohibition, due to a moral panic around camaraderie and a relaxed attitude toward racial prejudice by fellow users.
1922: Modern Prohibition
At this time, racial prejudice as a driving factor for prohibition was shared by South Africa and the US. In 1922, regulation 14 of the Customs and Excises Duty Act was amended to criminalize the cultivation, possession, use and sale of dagga and other habit forming drugs. Cannabis was viewed in the same light as opium and internationally outlawed in 1925, before being entirely criminalized under the Medical, Dental and Pharmacy Act in 1928.
The introduction of the Weeds Act in 1937 made land owners and occupants liable for any marijuana plants growing on their property. Government began sponsoring widespread eradication programmes and burning plantations and jailing growers in the 1950's. The United Nations (UN) banned cannabis internationally in 1961, as per the Single Convention of Narcotic Drugs treaty, which suited an apartheid regime concerned about racial integration.
The Abuse of Dependence-Producing Substances and Rehabilitation Centres Act was implemented in 1971 over growing concern of the use and abuse of dagga. Crop eradication efforts ramped up to aerial herbicide spraying by helicopters in the 80's, using the chemical 'paraquat'. In 1990, successful lobbying saw government ban paraquat and glyphosate became the South African Police Service's (SAPS) crop eradication chemical of choice.
A stringent Drugs and Drug Trafficking Act was imposed in 1992, making possession of more than 115 grams an offense deemed worthy of punishment for dealing. However, this was soon after deemed unconstitutional and amended, as it infringed upon a person's presumption of innocence. In 1998, South Africa signed up to the United Nations Convention against Illicit Traffic in Narcotic Drugs and Psychotropic Substances treaty.
2000: Marijuana Advocacy
The turn of the millennium saw a rise in advocacy for dagga legalization. Cape Town has since hosted an annual "Cannabis Walk" every May, which saw participant numbers rise to almost 6000 in 2017. Jeremy Acton founded the Dagga Party in 2009, with the goal of allowing marijuana users the same rights as consumers of alcohol and tobacco. Also since 2009, the Police and Prisons Civil Rights Union (POPCRU) has recommended legalization, in order to free up police for other work and improve state revenue.
According to the 2011 International Narcotics Control Strategy Report (INCSR), cannabis was the only illicit drug cultivated in SA in 2010, with the annual yield totalling an astronomical 4528 megatonnes (billion kg). Following their arrest for possession and dealing of marijuana in 2010, Julian Stobbs and Myrtle Clarke became known as the "Dagga Couple" and founded a pro-cannabis lobbyist organization in that name. Instead of pleading guilty, they argued that it was unconstitutional to prevent them from ingesting anything they wished, so long as it caused no harm.
The Anti-Drug Alliance of South Africa reported in 2013 that the war on drugs had created victims, rather than solutions, and that currently enforced policies were draining the countries finances. Dr. Mario Oriani-Ambrosini, who had been using cannabis to treat his own lung cancer, introduced the Medical Innovation Bill in 2014, which targeted legalization for medical and industrial purposes, although it was ultimately rejected.
2015 saw glyphosate declared a "probable carcinogen" by the World Health Organization (WHO), which was followed up by Fields of Green for All and the Amaphondo Children's Project launching legal proceedings, via environmental lawyer Ricky Stone, to stop aerial crop spraying by SAPS. In 2017, the Dagga Couple decided to sue the government for its policies in what is known as the "Trial of the Plant".
2017: Medical Cannabis Given Green Light
Dr Oriani-Ambrosini's proposed bill would directly lead to the legalization of medical marijuana and the implementation of a licensing framework for its cultivation in 2017. However, there are still no registered scheduled medical cannabis products readily available in South Africa to date (discussed further down).
2017 was a significant date for recreational users too. On March 31st in the Western Cape High Court, Judge Dennis Davis ruled that parts of the Constitution of the Republic of South Africa – relating to personal cultivation, possession and use of marijuana – were invalid.
2018: Recreational Decriminalization
On 18 September 2018, the Constitutional Court unanimously ruled that the personal and private use of cannabis, by adults, would be decriminalized. This meant that the ban on private possession and consumption, as well as cultivation of plants for personal use, was unconstitutional and infringed on section 14 of the South African Constitution, which gives all citizens the right to privacy. Deputy Chief Justice Raymond Zondo, however, emphasised that marijuana may not be consumed in public, distributed, sold or used by minors.
2020: Cannabis for Private Purposes Bill
On 1 September 2020, the Cannabis for Private Purposes Bill, which still needs to be approved by parliament and signed into law, proposed limits on personal and private adult use, possession and cultivation as well as sharing of marijuana without remuneration.


Cannabis Laws of Today
Based on the proposed Cannabis for Private Purposes Bill, the plant and its raw materials will soon be considered legal. However, its regulation under the MRS Act (Medicines and Related Substances Act, 1965) has already been formally amended. The whole plant, together with its constituents, is no longer classed as Schedule 7 (drugs not recognised as "medicine", which have a high potential for abuse).
In general, all laws apply to consenting adults and do not allow for the presence or involvement of minors under any circumstances. They do not apply to hemp plants, containing 0.2% THC or less. In private, cannabis is always to be kept out of public view. In public, it is to be possessed privately and out of sight. Once approved and written into law, those with past convictions or currently serving sentences stand to have their records expunged or adjusted accordingly. A summary of proposed plant limits follows, followed by already amended medicines laws.
Whole Plant
As of September 18th 2018, the personal cultivation, possession, sharing (without remuneration) and use of cannabis, in private by consenting adults, have been decriminalized in South Africa. However, the legal limits since proposed are rather stringent and exceeding them is punishable as trafficable or commercial offenses – which can respectively lead 6 and 15 year prison sentences.
Growing limits have been set to a maximum of 4 plants per single person household or 8 plants for households of two or more persons. It will also be legal to possess or share a single flowering plant in public (when kept out of sight).
Seeds and Seedlings
The proposed legislation sets no limits on the amount of cannabis seeds or seedlings (plant less than 15cm tall or wide) that one may possess in private. The limit for public possession and sharing has been set to 30. However, selling seeds or seedlings, which involves any exchange of remuneration, remains a criminal offense.
Therefore, a paradox exists between soon-to-be implemented laws and the practical application thereof. It is only possible to obtain marijuana seeds or seedlings by knowing someone who grows and is willing to share (legal but impractical), purchasing them online (illegal but outdated) or becoming a member of a cannabis club (grey area around membership fees and sharing).
Flowers or "Buds"
The much-coveted sensimilla (Spanish for "without seed") – referring to female plants that produce potent, seedless flowers – is also soon to be legal in its raw form, up to a certain extent.
The personal limit for possession at home has been set to a maximum 600g of dried flower for a single person household or 1200g for households of two or more persons. Adults will be allowed to possess and share 100g of dried flower in public, privately and out of sight.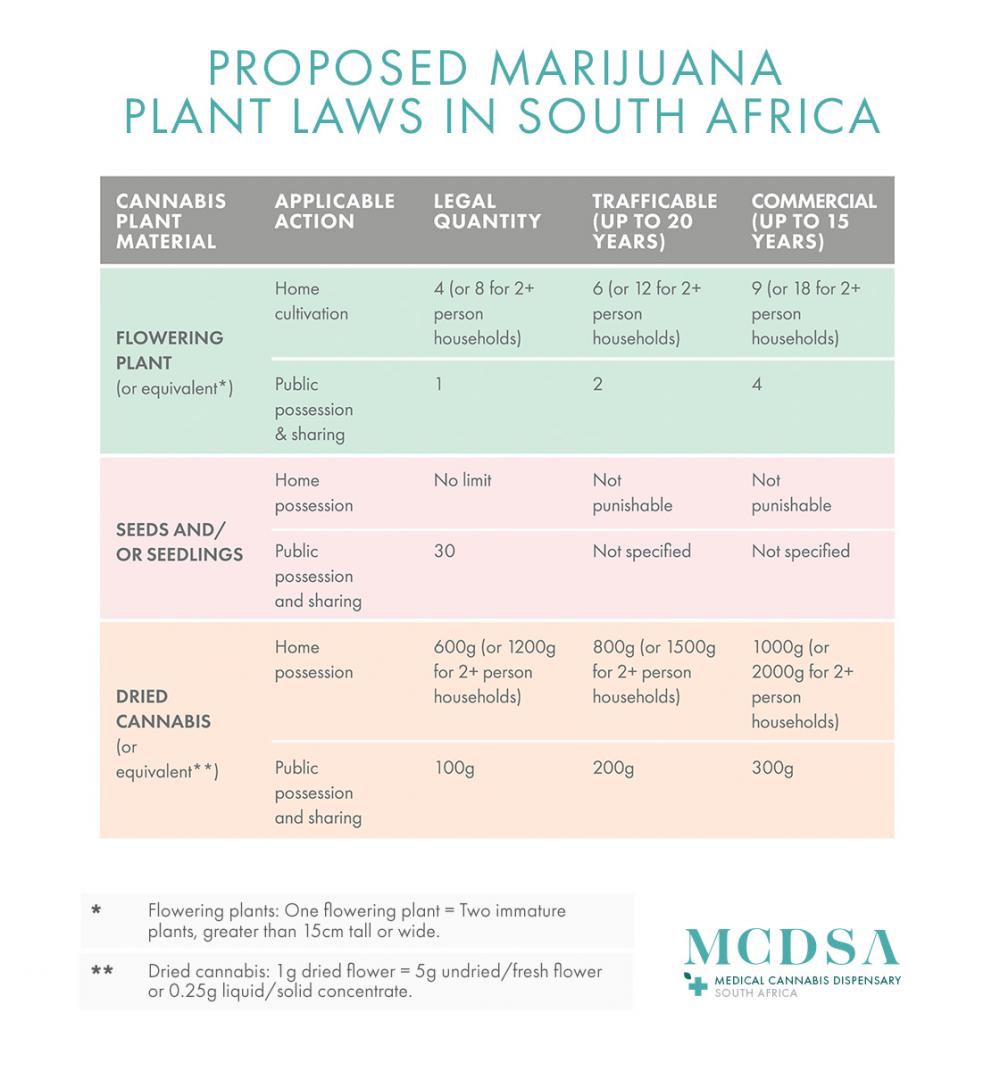 Supplements / Complementary Medicines
In terms of products derived from marijuana plant materials, the MRS Act (which is now published law) has set guidelines according to the two main cannabinoids, non-psychoactive CBD and psychoactive THC.
CBD products that contain up to 600mg of CBD in total, recommend a daily dose of no more than 20mg and make no specific health claims are exempt from scheduling and classed as Schedule 0 (unregulated, "over-the-counter" or Category D complementary medicines). Furthermore, products intended for ingestion, where plant source material naturally contains up to 0,0075% CBD in total, also fall under Schedule 0.
Hemp-derived products are exempt from regulation as Schedule 6 THC products when they do not exceed 0,2% THC for industrial purposes and 0,001% THC when intended for ingestion.
Scheduled Medicines
The gazetted amendments to the MRS Act provide that CBD is a Schedule 4 regulated substance and THC is now a Schedule 6 regulated substance, with the exception of the parameters for whole plant materials or complementary medicines, outlined above.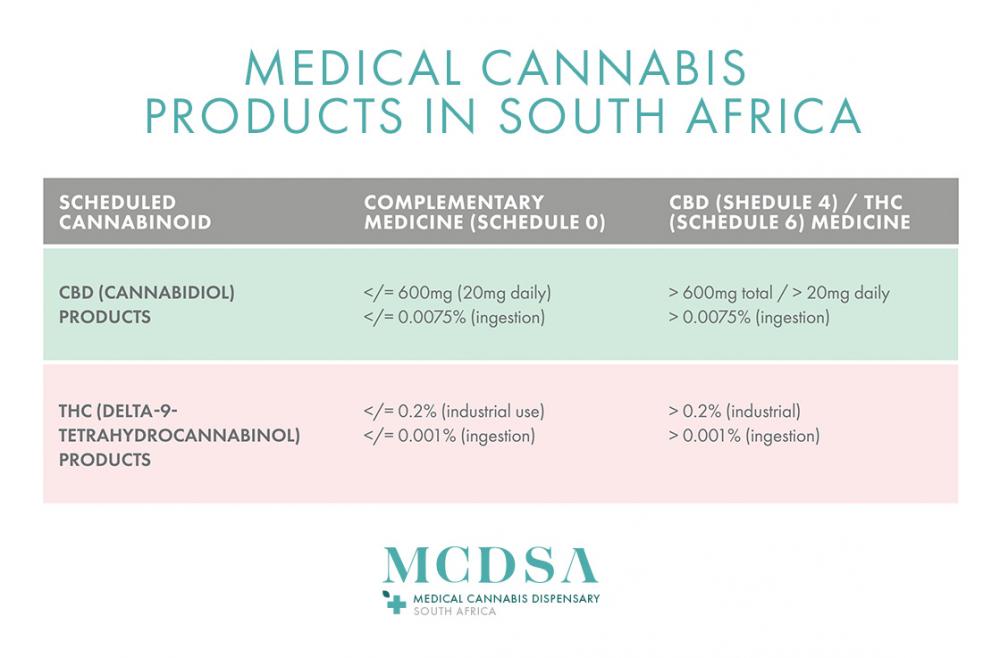 Medicines Availability in SA
Common medical cannabis uses include HIV/AIDS, drug-resistant epilepsy, spasticity in multiple sclerosis, chronic pain, cancer and chemotherapy side-effects, and many more. While it may be possible to source hemp-based supplements in South Africa, more effective marijuana-based medicines, worthy of scheduling status, are not readily available via legal, conventional medical routes. The high-quality medical cannabis products advocated by MCDSA would fall into the category of scheduled medicines, although they are not registered with SAHPRA (South African Health Products Regulatory Authority) – the regulatory authority that replaced the Medicines Control Council in 2018.
Other products worthy of scheduling status include pharmaceutical drugs like Dronabinol (synthetic THC, also known as Marinol), Epidiolex (CBD isolate) and Sativex (1:1 CBD:THC plant extract). Crucially, there are significant differences between whole-plant extracts and isolated or synthetic pharmaceutical drugs. The artificial and isolated natures of Dronabinol and Epidiolex, respectively, means that they do not contain complementary, beneficial plant compounds (like additional cannabinoids plus terpenes and flavonoids). Hence, they unable to invoke the whole-plant medicine principle known as the "entourage effect".
However, the primary concern with all of these pharmaceutical medicines, Sativex included, is that obtaining them can be challenging and expensive. Dronabinol was formally marketed in South Africa (registered as far back as 1996), but according to SAHPRA it is no longer readily available. In fact, as of November 2020, no CBD- or THC-containing medicines had been registered by SAHPRA and the aforementioned pharmaceuticals would need to be imported, via a special permit application from the Director General of Health, under Section 21 of the Medicines and Related Substances Act.
As such, legally obtaining pharmaceutical cannabis products can become a taxing process. One would first need to enlist the help of a doctor, who is both knowledgeable in the benefits of medical cannabis and willing to cooperate, before dealing with governmental application procedures and importation through customs. Even then, monthly medicine costs may become extreme and one faces the added uncertainty of whether or not medical aid will cover the expenditure – assuming one has health insurance in the first place.
South Africa is far behind countries like Israel, the Netherlands and Canada. Even the UK is ahead of us, in respect of getting assistance for children. As it stands, persons suffering from challenging health conditions need to find the strength to go through a lot of red tape – navigating the medical system and dealing with government (not to mention the expenses involved) – in order to be specially permitted to use medicines from abroad. Even then, these products often exist in the form of isolated or synthetic cannabinoids, or may contain an inappropriate cannabinoid ratio for treating a particular condition.
In short, legally obtaining pharmaceutical marijuana products in South Africa is not impossible, but certainly impractical, probably costly and potentially ineffective. MCDSA advocates the use of local products, which are healthily extracted from organically-grown flowers and abide by natural, "whole-plant" medicine principles. These products – known as full-extract cannabis oils (FECO) – are available according to several cannabinoids, in varying ratios, and contain the full array of beneficial plant compounds. Visit our Product Guide for our recommendations or find out how to source a safe and reliable product in Cannabis Oil.


MCDSA Stance
MCDSA does not encourage anyone to break the law, although we acknowledge that old-fashioned legislation needs to be urgently updated. The battle for legalization and acceptable policies that allow for a productive cannabis market in South Africa will undoubtedly continue for years to come. As the saying goes, "Stand for something or you will fall for anything". Hence, we stand in unity behind the entire cannabis community in the quest for less stringent laws surrounding both recreational and medicinal dagga use in South Africa. After all, the dagga industry could be worth up to R28-billion by 2023, according to Prohibition Partners (and that is excluding CBD).
As the industry-leader in SA, we have first-hand experience testifying to the outstanding therapeutic properties of medical marijuana products. We understand the desperation that comes with seeking alleviation from debilitating and disabling symptoms associated with complex conditions for which the conventional medical system has little answer. Try telling a person living with terminal cancer that they may not spend their final days accompanied by the uplifting and pain-relieving qualities of THC. Tell the parents of a child born with intractable, drug-resistant epilepsy that the CBD tincture, which has provided their beloved baby with much-needed symptomatic relief, is illegal and, therefore, they should stop using it.
Our stance is this: while we wait for slow-moving policy changes and widespread legalization, logic must prevail. In the face of all legal restrictions, we have stepped in and provided the medicine that so many people need and we will continue to do so. We go to extreme lengths to ensure that the products we provide are of the highest-quality available on the South African market, that they meet a medical standard, and that children and even pets can use them safely and effectively. Nobody should suffer when there is a natural treatment option available to provide respite.
Please contact us below with any questions that you may have. Feel free to search our Treatment Guidelines for a specific condition or visit our Knowledge Centre for a world of cannabis-related information.


Disclaimer
All information on this page is subject to MCDSA's disclaimer.